Volkswagen has signed a deal with Amazon to build the Volkswagen Industrial Cloud, a digital platform designed to transform its manufacturing and logistics processes.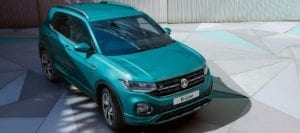 The Volkswagen Industrial Cloud will bring together real-time data from all of its 122 manufacturing plants to manage the overall effectiveness of assembly equipment, as well as track parts and vehicles.
Andy Jassy, chief executive of Amazon Web Services, said: "Volkswagen's and AWS's collaboration will have a profound impact on efficiency and quality in production throughout Volkswagen's global supply chain, as Volkswagen gains access to the broadest and deepest cloud with the most functionality, the most innovation, the highest performance and security, and the largest community of partners and customers of any other infrastructure provider."
Volkswagen will use the suite of AWS IoT services, including AWS IoT Greengrass, AWS IoT Core, AWS IoT Analytics, and AWS IoT SiteWise, to detect, collect, organise, and run analytics on data from the plant floor.
It will be able to uses a company-wide data lake built on Amazon Simple Storage Service to analyse data to pinpoint operational trends, improve forecasting, and streamline operations by identifying gaps in production and waste.