Waitrose and CNG Fuels are to take part in a large-scale study exploring how compressed natural gas can help cut road transport emissions and to encourage UK fleet operators to switch from diesel.
CNG is to open a renewable biomethane refuelling station at Northampton in autumn this year at the Red Lion Truck Stop off junction 16 of the M1. It will be used by Waitrose's new fleet of 58 gas trucks.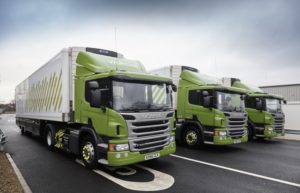 The station will be able to refuel over 350 trucks a day and can be supplied by mobile CNG trailers if gas supply is cut off in an emergency. The project has received funding from the Office for Low Emissions Vehicles in partnership with Innovate UK and performance data will be analysed by a University of Cambridge team.
"100 per cent renewable biomethane fuel offers fleet operators the chance to dramatically cut carbon emissions, improve air quality and save money," and this "study will help convince others to make the shift and demonstrates that this is a solution that can be scaled up rapidly within fleets," said CNG Fuels chief financial officer Baden Gowrie-Smith.
"Fleet operators and drivers are enjoying the 'diesel-like' simplicity of biomethane fuel while making a major impact on our environment by tackling the challenges associated with lowering HGV emissions."