Waitrose has introduced two gas-fuelled Scania tractor units at its RDC at Leyland, as a first step to displacing as much diesel as possible with bio-methane.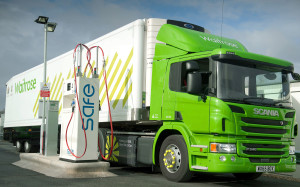 The move follows the opening of a gas refuelling station in Leyland by CNG Fuels. The station is connected to the national high-pressure grid and as such is capable of refuelling up to 500 trucks a day – the greatest refuelling capacity of any facility in Europe.  The gas supplied is sustainable bio-methane, created from food waste and tracked virtually through the grid using Green Gas Certificates.
"While we already have considerable experience of dual-fuel vehicles, operating solely on gas takes our environmental performance to another level," said Simon Gray, vehicle engineering manager at John Lewis, parent company of Waitrose.
The vehicles have an operational  range of 350 miles and are being used for daily return-to-base services to stores throughout northern England, the north Midlands and north Wales.
"The success of gas-fuelled operation depends upon a reliable supply of gas and the Leyland installation now provides us with the local support we need," said Gray.
"We have plenty of operating experience with diesel Scanias, and early indications are that the gas-powered trucks are performing well.  Moreover, they are quiet to drive and our drivers, who are Partners in the business, are proud to drive vehicles with excellent environmental credentials."
The vehicles typically take around four minutes each to refuel at the end of a day's work.  This rapid turnaround means the station also uses less electricity during the refuelling process than lower pressure stations and consequently has a lighter environmental footprint.
"Looking to the future, we envisage introducing many more gas vehicles into Leyland, the ultimate goal being to displace as much diesel as possible with bio-methane."
The two Scania's are P 340 LA4x2MNA models plated at 31-tonnes GRT.
Both vehicle are equipped with Scania's nine-litre, Euro 6 engine delivering 340hp (250kW) at 1,900 rpm. The engine is designed to operate solely on gas (compressed or liquified) and offers a high thermal efficiency of 40 per cent.  When operating on biogas, carbon dioxide reductions of up to 90 per cent can be achieved.