Waitrose is to expand its fleet with an order of aerodynamic 'boat tail' semi-trailers newly designed by Gray & Adams. Waitrose has previously acquired 'Ultra-low carbon' semi trailers from the manufacturer.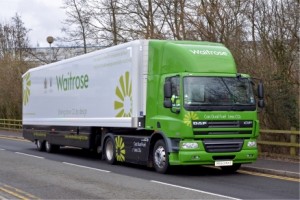 Gray & Adams teamed up with Cambridge University to create a new aerodynamic trailer. Academics at the university proposed design modifications which would cut aerodynamic drag by 14 per cent, in turn predicting fuel savings of 7 per cent.
"We've worked with Gray & Adams for many years and the collaboration between our two companies works well," said Simon Gray, vehicle engineering manager for Waitrose parent the John Lewis Partnership.
According to Gray the trailers are delivering the 7 per cent improvement in fuel efficiency that was anticipated.
Speaking about the design of the trailer, he said: "It's all very well having a nice set of drawings, but you then have to make it work in the real world," Gray & Adams did a good job of that.
"We sat down with the manufacturer and worked our way through it. I recall one problem relating to reversing the trailer onto the bay. It meant we had to amend the original aerodynamic design to accommodate the loading dock infrastructure, but we were able to do so without compromising the optimum boat-tail angle."