With the latest ONS figures showing the highest online shopping figures on record in April 2020, there has been a subsequent increase in demand for warehouse space nationwide.
Ed Cole, head of logistics, JLL, said: "April saw us move into a full month of lockdown and as we expected these numbers from ONS show us that consumers have increasingly moved online to buy goods whilst the majority of shops have been closed.  This shift to online spending is going to translate into further demand for logistics space to service this market.  During this period we have seen deals concluded and new requirements launched from online retailers looking to secure floorspace to satisfy this expected ongoing increase in demand.
"Not only have retailers had to look for space but so to have parcel delivery companies, who are currently operating at levels higher than peaks usually recorded at Black Friday and Christmas.
"We expect to see a number of parcel delivery companies acquiring space this year to satisfy this increased demand."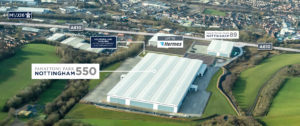 Indeed parcel delivery firm Hermes UK has had to bring forward the opening of its new Nottingham depot a month early to the start of June in order to support the increased volumes resulting from lockdown and will operate in line with the company's strict Covid-19 operating measures.
Located just off junction 26 of the M1, the 75,719 sq ft building at investor developer Panattoni's Panattoni Park Nottingham, is expected to process more than 100,000 parcels daily in its first year and has the capacity to process up to 120,000 a day.
Hermes is also to open a new returns centre at its site in Rugby which can process in the region of 120,000 parcels per day and is also investing in upgrading its facility in Nuneaton which is normally only used during the peak Christmas season.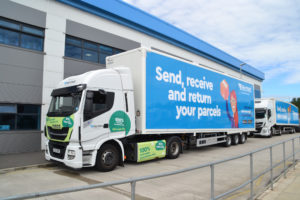 Jon Ormond, operations director – Hubs & Depots at Hermes, said: "During these unprecedented times we are seeing a new wave of adoption of online shopping as it becomes the core route for people to get their essentials and also send parcels as a way of connecting with their loved ones.
"This has generated an increase in parcel volumes and a demand for additional capacity and it is therefore imperative that we continue to make the right strategic investments in the right locations.
"This will also create new jobs and provide economic stimulation to these regions as the UK faces challenging economic times."
Cole added: "Overall we are expecting a large proportion of demand for big box logistics space this year to come from e-commerce and parcel delivery companies. Looking past this year, as online continues to grow we expect that there will be a structural change across a number of retailers supply chains where those retailers that have not yet embraced omni-channel retail move in that direction."
The first full monthly set of retail sales in Britain since the country has been on lockdown revealed that, whilst overall retail sales fell by a record 18.1% in April 2020, the proportion spent online recorded its highest rate on record at 30.7%, which was significantly higher than the same month a year ago at 19.1%.
Online spend for groceries recorded the largest month-on-month growth with sales increasing 55.8% compared with a month earlier. Online groceries spend overall increased to 9.3% of total grocery sales, which marked the highest month on record.