Postal operator Whistl is to consolidate its northern operations at Logistics North in Bolton in the late Spring.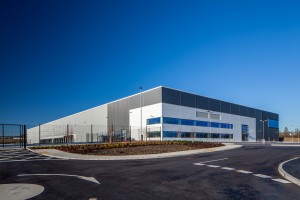 It has taken a ten year lease on M&G Real Estate's Logistics 225 unit at Harworth's Logistics North development in Bolton, where it will consolidate existing operations from Leeds and Warrington.
The new building is expected to improve operational efficiency as it has four level access doors, 20 dock levellers, 50 trailer parking spaces, 31 loading positions and 222 car parking spaces.
The new site also gives it one third more capacity for future expansion of its existing mail, packet and parcel and ecommerce business.
Whistl chief executive Nick Wells said: "The new depot will enable us to provide an excellent working environment for our colleagues as well enable us to continue providing high quality and efficient services to our customers. We look forward to working with Bolton Council on recruiting people to work at Whistl in the coming months."
The 224,938 sq ft warehouse has immediate access onto Junction 4 of the M61. Whistl has offered staff employed at the existing Leeds and Warrington depots the opportunity to work at the new site.
David Crowley, director of logistics & industrial asset management at M&G Real Estate, said: "This early pre let to Whistl underlines the strength of the location and is testament to our on-going strategy to create core product in prime locations which will provide long term income returns for the funds. We shall continue to look for similar opportunities into 2017 and add to our £2.4 billion industrial and logistics portfolio."