Indigo has market-leading software and a very strong reputation as a WMS vendor, but is very different to the other warehouse software companies because its supply chain consulting team comes from within the logistics industry, according to Eric Carter, Solutions Architect with the company, who spoke to Logistics Manager at IntraLogisteX this afternoon.
"Every one of our leading industry supply chain experts has many years of senior warehouse management experience in key industry verticals under their belts. When we are working with clients to improve their processes before the technology is implemented, they always benefit hugely from the insights and expertise this can bring to each project. It is a very important differentiator."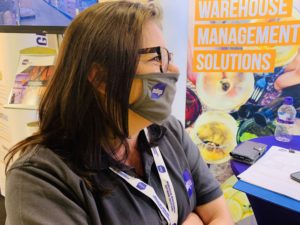 Indigo is working with companies all over the world that want to automate their warehouses and the challenges they face vary greatly from one region to another. "Throughout the pandemic, our customers were working tirelessly to satisfy unpredictable and unprecedented consumer demand, whilst keeping warehouse staff safe with social distancing measures in place."
Given the unprecedented demand for online shopping and B2B commerce currently, identifying a fast, cost-efficient and risk-free way to capitalise on the global e-commerce boom is a huge universal challenge. Linked to this is massively increased demand for e-commerce fulfilment services, due to new trends like drop-shipping and q-commerce. "Closer to home, we are seeing an increased need for real-time reporting and processing of inventory origin paperwork due to Brexit," Carter adds. "The skills shortage is another challenge – companies are struggling to deal with warehouse staff shortages, which is partly due to Brexit and also the impact on their business of retraining new staff and losing valuable logistics operational knowledge due to employee churn.
And what is Carter's thoughts on day one of IntraLogisteX? "We have exhibited at IntraLogisteX since the launch of the exhibition and it's always a very good event with very high quality visitors. Given everything that has been happening out there in the world, to be honest, our expectations for this year were quite low. But I must say we are pleasantly surprised by the number of attendees."
All safety measures have been in place at the Ricoh Arena, including hand sanitisers, one-way systems, social distancing and, of course, masks. As you can see, Indigo went all this year with some branded versions!
Indigo Software is exhibiting at IntraLogisteX on Stand 312