Construction work on the new £83m military logistics centre in Donnington near Telford has been officially started by defence minister Philip Dunne.
The 800,000 sq ft Defence Fulfilment Centre will store food, clothing, general and medical supplies.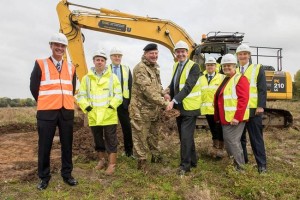 It will be run by Team Leidos, which earlier this year won the Logistics Commodities and Services (Transformation) programme – a 13 year contract to manage up to £1bn a year of spending.
It will take around one year to build and house two warehouses covering an area the same size as ten football pitches.
"I am very pleased to be able to mark the start of construction on the Defence Fulfilment Centre in Donnington which will help deliver the best support to our Armed Forces while ensuring value for money for the UK taxpayer, generating financial savings of around £500 million over the next 13 years," said Dunne.
"The Government is making a significant investment of £83 million in this state-of-the art, modern logistics centre benefiting both our Armed Forces and the local economy. This forms part of our ten year, £160 billion Equipment Plan, as well as our commitment to meeting NATO's defence investment pledge."
Team Leidos consists of Leidos, a US company, supported by its  sub-contractors Kuehne+Nagel and TVS Supply Chain Solutions. Leidos Europe managing director Barbara Doornink said: "We are already identifying areas for investment and improvement, and the DFC represents the first major step change in what can be delivered with modern infrastructure and IT."
Lieutenant General Sir Chris Deverell, MOD Chief of Materiel, (Land), said: "The modernisation of the way we store and distribute our military equipment will develop a supply chain that will be responsive to the needs of the military, while at the same time saving money for the MOD."