Worldwide Flight Services (WFS) has today announced that SATS has reached an agreement to acquire WFS from an affiliate of Cerberus Capital Management. The transaction is valued at €2.25 billion.
The transaction will join the world's largest air freight carrier with Sinagpore's SATS which is the leading provider of aviation services in Asia.
The combination of companies will create a first-of-its-kind global air cargo platform with scale and a network of sites across Asia, the Americas, and Europe. Customers will benefit from the combined platform's broader suite of services, operational best practices, and integrated technology.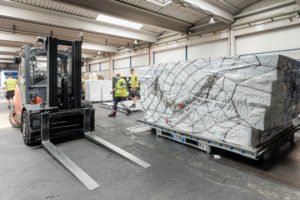 Following the closing of the transaction, WFS will become a wholly owned subsidiary of SATS and the WFS management team will continue to lead the business.
The transaction is subject to customary regulatory and SATS shareholders' approval, and is expected to close by March 31, 2023.
WFS was advised by Goldman Sachs & Co. as its exclusive financial advisor with Linklaters LLP as lead counsel and Deloitte LLP as tax advisor.