Worldwide Fruit is doubling the volume of product it distributes through Fowler Welch.
This includes increases in services distributing fruit from the Spalding and Teynham depots, and Worldwide Fruit's pack houses in Kent.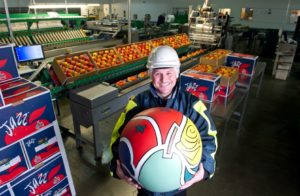 Worldwide Fruit saw a growth within its avocado and stone fruit business operating across high street retailers and so "it was a tried, tested and trusted friend of our business we turned to," said Worldwide Fruit operations director, Neal Collishaw.
Fowler Welch is to hold storage for 1,000 pallets in season at the Spalding warehouse, with annual projected transport volumes of 56,000 pallets. This is an expected 50 per cent increase on 2017 volumes in the number of pallets stored and distributed.
During it 20-year relationship with Worldwide Fruit, Fowler Welch has "invested time in understanding the business and developed a service that has been flexible to grow and develop alongside the business's needs," said David Cooke, key account manager at Fowler Welch.