XPO Logistics is taking part in a project to deliver goods into the centre of Paris using a combination of road and rail.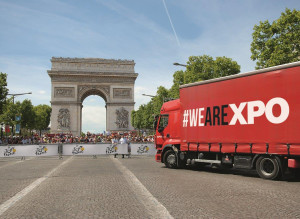 It is working with Sogaris and Eurorail in the creation of the shuttle service. XPO is responsible for the road transport, as well as designing, directing and marketing of the transport solution.
The shuttle, which will be created within the framework of the Chapelle International urban regeneration project, is scheduled to start operation in September 2017. The multi-modal project will enable the routing of products into the centre of Paris by combining the railway shuttle with road transport.
"With this multi-modal innovation, a pioneer in Paris and complementary to our XPO shipment services via the Seine, we will be able to offer our customers a reliable urban supply and distribution solution that is economically efficient and in line with the commitment of Paris and its suburbs to reduce the environmental impact of urban logistics," said Luis Angel Gomez, managing director of transport solutions for XPO Logistics Europe.
An urban rail terminal in Paris will be operational from September of next year. This means that companies with high commercial density in the French city and its suburbs will be able to use a 'short-line' service to and from the Northern region of Ile-de-France.
After this, products will be distributed on XPO trucks that use natural gas instead of diesel – which, according to the logistics company, will take 30 trucks a day off the city streets.
"Chapelle International and the urban rail shuttle mark a revolution for urban logistics in the Greater Paris area," said Jonathan Sebbane, CEO of Sogaris. "Efficient, green and innovative, this solution is emblematic of what needs to be developed on strategic metropolitan sites to improve the transport of goods and thus meet the needs of inhabitants,"
And Alexandre Gallo, general manager of International Eurorail said: "A real breakthrough in rail logistics with an urban rail shuttle and the associated operations of an ultra-modern terminal, this new solution illustrates that rail transport can be both civic and innovative, through mass-scale distribution at the heart of a major city."