XPO Logistics will serve as the Tour de France carrier for its 36th consecutive year.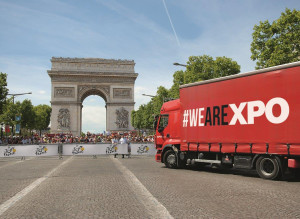 The company will transport support equipment for the 21 stages of the race, it will deliver the loading and unloading at each stage; intermediate check points, as well as items for the Caravan parade and Tour de France ship.
44 XPO jumbo trucks will be used during the tour, with 53 drivers.
"Our teams are proud to once again play an instrumental role in the success of the Tour de France," said Adil Houem, head of transport and logistics for XPO Logistics. "We have tailored our services to this event's unique specifications, and are working closely with the organizers, ASO, to make sure that everything is in place.
"The Tour de France is a legendary event and it has been our privilege to serve as official carrier for 36 years."
The race takes place from 2nd to 24th July.