XPO Logistics has signed what it describes as a long-term partnership agreement with Mercedes-Benz Parts Logistics to manage UK parts distribution.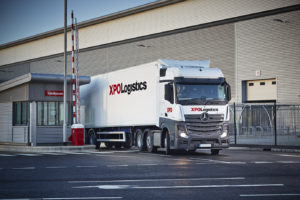 XPO will distribute automotive parts to Mercedes-Benz's UK retail and commercial vehicle dealerships, running over 40 routes daily from the Mercedes-Benz European Logistics Centre in Milton Keynes and XPO's overnight-delivery depots in Motherwell, Leigh, Wakefield, Gloucester and Taunton.
Juan Manuel Santiago Mendez, chief executive of Mercedes-Benz Parts Logistics – UK, said, "Our UK operation keeps consumers and businesses moving – it is responsible for more than 750,000 parts numbers. We believe XPO has the scale, capabilities and expertise required to support our retailers and dealers with reliable distribution. They have designed a comprehensive solution to our high standards, and their technology should enhance network visibility."
Dan Myers, MD, transport – UK and Ireland, XPO Logistics, said that the "tailored technology solution' it would provide would underpin service excellence and support Mercedes-Benz across its UK operations, as it looked to lower costs and increase efficiencies.