Yodel has unveiled a semi-automated sortation system, named Merlin, for "uglies" – large, out of gauge and delicate parcels.
The £1 million system has been installed at the Wednesbury sort centre replacing two manual sorting carousels. It can handle items up to 1.8m long and up to 0.9m wide.
It is capable of processing up to 2,500 metre-long items per hour and will greatly enhance the speed and efficiency of the out of gauge parcel sorting process.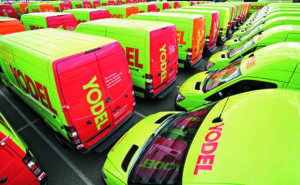 Merlin's automation will also ensure that clients and customers benefit from greater visibility and traceability of their parcels throughout the network. Items that previously had to be manually sorted will now be automatically scanned, weighed, volumised and photographed as they pass through the system and are sorted to Yodel's nationwide network of customer delivery depots. Furthermore, the new system will also be directly linked to Yodel's billing systems to enable speed and accuracy of invoice processing.
Yodel reckons uglies account for about five per cent of the market by value.
Lucy Robertson, Yodel's director of sort and transport, said: "The investment in equipment and technology will deliver improvements in flow as well as reduce parcel handling by our colleagues."