Yodel has launched Xpect Returns, a new collection service for returning purchases to retailers. Yodel customers will now be able to have their returns picked up from their location by Yodel within a two-hour collection window and returned to the retailer.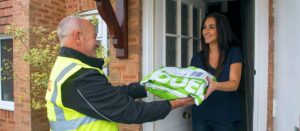 The service is now available through several UK retailers, and is fully trackable. Customers and retailers are able to track the status of the collection and return of the package via push notifications through a mobile device application, email or SMS.
Parcels can be collected the next day, or on a nominated day of the customer's choice, and will be returned to the retailer within 48 hours of this collection.
"The launch of Xpect Returns represents our on-going investment in providing a flexible offering for both our customers and retailers," said Andrew Peeler, CEO at Yodel. "The newly enhanced service will make the process of returning an item as simple and familiar as a delivery.
"We have listened to feedback from our Have Your Say survey, which receives responses from over 7,000 customers each day. These insights revealed that nearly 40 per cent of consumers prefer unwanted items to be collected from them over any other returns channel, so we are confident that this service will prove a popular choice for many of our retail clients and their customers."