If your business is preparing for further change in 2019 and needs to segregate and partition space, Westgate can help! Plus, you could receive a free laser measure.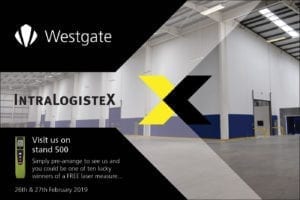 In a year that Brexit will most definitely shape the future of the UK manufacturing and warehousing sectors, Westgate's partitioning solutions help our customers segregate space without the disadvantages of a fixed solid wall. Prearrange to see us at IntraLogisteX and be in with a chance to win 1 of 10 laser measures
Make your appointment here.