Yusen Logistics UK has won a major logistics contract with Haier, the Chinese white goods company. Yusen will be responsible for nationwide distribution of the company's entire product range as it relaunches into the European market.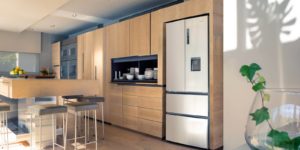 Yusen has designed an end-to-end logistics service, including inbound support, storage, distribution and a bespoke reverse logistics solution providing full tracking, control and reworking of returned goods.
"To increase our market presence in the UK, we need the reliability and experience of a logistics partner that understands the market and our products, with a proven track record," said Dave Yearsley, managing director, Haier UK & Ireland.
"Yusen Logistics' strong white goods network offers us the high levels of experience and service in the storage, handling and delivery of our goods with a personal and hands-on approach that we know will deliver a service of excellence that reflects our products."
Khalil Ashong, contract manager for Yusen Logistics UK, said: "Following a smooth implementation process, we now look to further build upon the success of our relationship with Haier. Our service focuses on 100 per cent product integrity, careful handling procedures, and trade delivery times that we believe will benefit Haier and their customers alike."