Cycling parts, accessories and clothing distributor ZyroFisher has fitted out  its 100,000sq ft Darlington facility with the Advance SmartLine conveyor.
The conveyor is built by Advance Automated Systems and incorporates energy-efficient 24V DC technology from Interroll as key elements for its overall system solutions.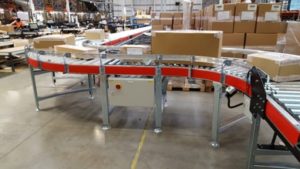 ZyroFisher looked to improve efficiency and productivity in. With over 800 cartons being shipped daily, most pick, pack and dispatch operations were manually handled.
ZyroFisher's bespoke SmartLine roller conveyor is an automated solution. It transfers various sized cartons directly to the dispatch trailer, simplifying and reducing the system commissioning time on site. All container modules are ready to transport product at all times, but each individual conveyor module only operates when there are containers present. Once the containers have moved off, the conveyor modules stop running.
Advance Automated Systems marketing manager Shaun Graham described the solution as "both modular and flexible in design." The "conveyor was installed as it offered the most energy efficient and economical method of delivering cartons directly to the dispatch trailer, thereby streamlining ZyroFisher's workflow."
"Within the system, RollerDrives and MultiControl cards from Interroll were used, the components providing a quality and reliability unmatched by other products on the market," said Graham. "The components we use from Interroll have played a key part in that success."