The February 2017 edition of Logistics Manager is now out in print and online. It is also available on iPad and Android.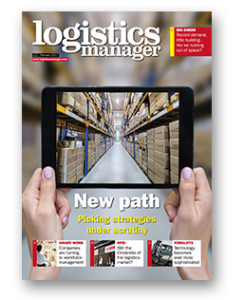 Picking a new path
Logistics operators are making major changes to the way they approach the order picking process.
Reasons to be cheerful
User of counterbalance trucks are being wooed with increasingly sophisticated technologies to improve both operational efficiency and safety.
Smart work
Tighter regulation and the need to ensure that staff are working as efficiently as possible mean that companies are increasingly turning to workforce management technology.
A seat at the table
Despite its many talents, RFID has never really had a seat at the logistics table. But with an increasing desire for transparency, will the qualities of the technology finally be realised?
Nurturing nature
41 per cent of goods bought online are over-packaged, according to a recent survey. No wonder the pressure is on to become more environmentally aware.
Space race
Record take-up, record demand and no new buildings…Are we running out of space? Liza Helps reports.
---
Click here to subscribe to the print edition of Logistics Manager