The Port of Felixstowe is to welcome its 100th 18,000+ TEU container ship this week.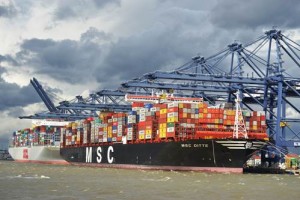 The Matz Maersk, operated by Maersk Line on the 2M Alliance's AE10/NEU2 service between Europe and, is 18,270 TEU in total.
"The Port of Felixstowe is firmly established as the port of choice for the largest mega-vessels. We were the first port in the UK to handle this latest class of vessel and continue to handle more of them than any other UK port," said Clemence Cheng, executive director, Hutchison Ports and a member of the LISW board of advisors. "15,000 industry visitors are expected to visit London International Shipping Week and this latest milestone at the Port of Felixstowe helps demonstrate how the UK remains at the forefront of the global shipping industry.
"The Matz Maersk will be the fourth of six mega vessels we are expecting this week and we are on course to exceed comfortably the 137 mega vessels we handled in 2016."