Planning permission for a new up to 1 million sq ft logistics site in the midlands 'golden triangle' has been granted.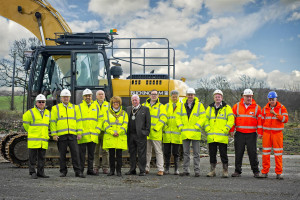 The site is located 10minutes away from junction 22 of the M1, and 20 minutes from the M69 and A42 – giving it access to East and West Midlands, Leicester, Nottingham, Derby, Birmingham, the Black Country, as well as other centres further afield in the North and South.
The site, called MIDAS 22, will offer a range of unit sizes – including 200,000 sq ft buildings, to a single maximum logistics unit of over 1million sq ft.
David Bink of Cushman and Wakefield said:
"There are very few sites able to accommodate development on this scale within the golden triangle. With detailed planning consent, MIDAS 22 offers three units of 358,000, 370,000 and 274,000 sq ft but also the flexibility for bespoke solutions, with no restrictions on building height or hours of operation, to suit individual occupier requirements."
Investors in the site are Curtis Hall and AlRajhi United.