Leyland Trucks is celebrating the production of its 400,000th commercial vehicle at its Leyland assembly facility. The vehicle, a DAF XF 460 FTP tractor unit, was handed over to Carr's Flour of Silloth in Cumbria.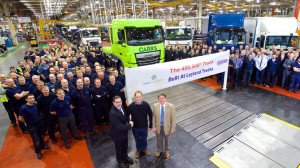 Production started at the Leyland Assembly Plant in 1980. Leyland is the centre of design and production for the DAF LF range. It also produces UK-registered, right-hand-drive DAF CF and XF models as well as a significant number of vehicles for export to markets in Europe and around the globe.
"We're very proud to have reached such a significant landmark," said Leyland Trucks managing director, Bryan Sitko, "We have a long history of design and manufacturing in Leyland, we are a true community of expertise. Leyland is a testament of our credentials as a nation competing with the world's best in the automotive sector."
From October to December 2015, an estimated total of 550 customers and dealers will have toured the facility.
Carr's Flour Mills runs a fleet of ten vehicles from its Silloth base, predominantly DAF CF and XF tractor units, and a further six out of Kirkcaldy. Transport manager Steve Mattinson was invited to Leyland Trucks as part of the production facility's 'Building Britain' events – a series of customer visits hosted jointly by Leyland Trucks and DAF Trucks UK. "My company has a long history of acquiring British-built trucks, and it's fantastic to see Leyland Trucks thriving today," he said.