EV Cargo subsidiary NFT has invested in 82 Renault Range T460 6×2 tractor units with sleeper cabs.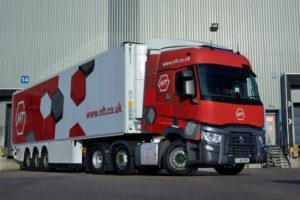 The range T vehicles enable NFT to achieves its safety and efficiency goals with minimum environmental impact. The vehicles are equipped with the latest safety technology and enable for optimum fuel consumption with the Fuel Eco Pack that includes Eco Cruise Control with Optiroll.
The cab is fitted with top of the range optional extras for driver comfort such as heated seats, cruise and telephone control and leather steering wheel.
"Renault Trucks' full Optifleet package is excellent and provides us with comprehensive fuel data and, depending on the time of the year and delivery profile, we have been achieving impressive fuel consumption figures," said NFT fleet engineer, David Seaton.
"Our drivers have been positive, commenting on the comfort levels and that the Range Ts are very nice to drive," added Seaton.