Adelie Foods has opened a new depot in Cardiff and expanded into new sites at Haydock and Tamworth, doubling its distribution capacity.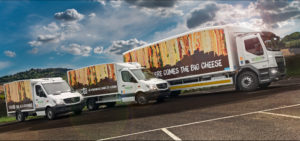 The company which specialises in food to go, operates from four manufacturing sites and seven distribution centres delivering to more than 34,000 accounts each week using a fleet of more than 270 vehicles.
The depot upgrades are part of a multi-million pound investment, which has seen all three sites increase both frozen and chilled capacity.
Tamworth is the biggest of the sites at 28,000 sq ft, followed by Haydock with 25,000 sq ft and Cardiff at 8,000 sq ft.
It is also rolling out a new EPOD system which will capture real time delivery data instantly and provide a better customer experience.
Sean Glover, head of distribution, said: "It's an exciting time at Adelie as we modernize our depots and vehicle fleet, reaching more consumers than ever before. The investment will allow us to deliver to more locations and provide an even better level of service to our customers from all channels. Our distribution network is continuing to grow and the expanding distribution capacity across the three sites will help to facilitate further growth."