Aldi has opened a 611,250 sq ft site in Bolton – the supermarket retailer's biggest UK distribution centre.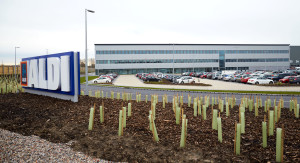 The £50 million purpose-built facility will be occupied by 550 relocated employees – the site will replace a smaller facility in Middleton, Greater Manchester.
Up to 100 new logistics roles will be available at the site over the next few months.
"To keep pace with consumer demand we plan to open more than 80 new stores this year," said Jonathan Neale, Aldi's joint managing director, buying. "This is the most stores we have ever opened in a single year and many will be in parts of the UK that currently don't have an Aldi.
"To support the largest store expansion programme in the sector we continue to invest in our people and distribution infrastructure.
"We are confident that the additional capacity we are adding to the business this year will significantly boost sales and introduce hundreds of thousands of new consumers to the Aldi brand."
This new site is one of eight regional DCs – the retailer is also investing £60million in a new DC in Cardiff which will open in 2017.