Amazon to occupy huge warehouse at Airport City Manchester
Online retailer Amazon is set to occupy a space of 654,000 sq ft at Airport City Manchester as part of the £800m development of the site. The opening of a new warehouse, developed by MAG Property, will provide 1,500 jobs for the area.
There is already a 260,000 sq ft warehouse currently being developed by MAG Property and Stoford.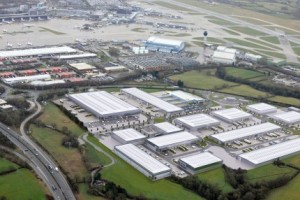 "Manchester Airport's network of flights to destinations around the globe is one of the key things that makes Airport City attractive to businesses looking to relocate or set up new bases in the UK," said Jonathon Haigh, director of development management and infrastructure at MAG Property. "This deal provides clear evidence of that and also gives Amazon close access to both their supply chain and the 22 million potential customers within a two hour drive of Manchester Airport."
Sir Richard Leese, leader of Manchester City Council, said: "This development shows how attractive a location close to the airport, with its extensive connections, is for occupiers who require a global reach. It follows on from previous examples of investor confidence in the enterprise zone, such as DHL relocating their overseas delivery logistics hub to Airport City South. There's every reason to believe that Airport City will go from strength to strength."