Amazon has bought 40 double deck trailers, which will be used by its line haul partners in the UK. The trailers are Prime branded.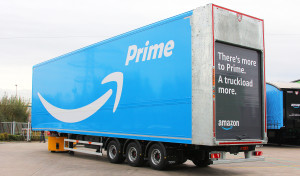 The online retail giant has several dozen line-haul partners across Europe, many of which serve a number of countries, not just the UK. And across Europe, Amazon's line-haul partners use thousands of trucks and thousands of trailers.
An Amazon spokesman said: "Amazon has taken delivery of forty double-deck trailers that will be used by our line-haul partners for distributing items between our fulfilment centres and delivery stations across the UK.
"The trailers will support partners by providing additional capacity and flexibility to Amazon's UK line-haul operations, ensuring that customers continue to receive a first rate level of service."