Antalis, one of Europe's leading distributors of paper and packaging solutions, will be showcasing its 'Emba TrayTech' machine at the upcoming IntraLogisteX exhibition. The machine is a package solution that provides a significant degree of automation for constantly changing types of products of between 0.01 – 150Kg, at a constant packaging speed.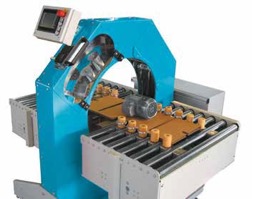 The Emba TrayTech also boasts standardisation of packaging types, a significant reduction in costs, and optimal product protection.
Antalis will also showcase its end-to-end packaging solution designed to help logistics businesses to fully optimise their packaging operations.
Live demos of the product will be available at IntraLogisteX – which will be returning to Jaguar Exhibition Hall 2 of the Ricoh Arena in Coventry on Wednesday 16th and Thursday 17th March 2016.
Antalis will display its products alongside a whole range of exhibitors, including: Renovotec, Craemer, A27 Engineering, and Indigo Software, along with many others.