The April 2015 issue of Logistics Manager is now available on iPad.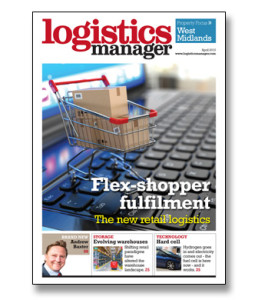 Cover Story: Flex-shopper fulfilment
Increasingly, consumers are turning to online portals for their shopping needs. And logistics providers are feeling the impact of this change to the face of the high street.
Intralogistics Awards: entries unveiled
The entries for the first UK IntraLogistics Awards, are unveiled, highlighting the tremendous level of innovation and ingenuity at work in the industry. Full details of the winning entries will be published in our May issue.
Storage and Retrieval: Evolving warehouses
Shifting retail paradigms have altered the warehouse landscape, but what impact is that having on storage and retrieval strategies?
CV Show: Time to go trucking
But it might just be the new van launches that steal the show at the National Exhibition Centre later this month.
Technology: Fuel cells come of age
There are now cars, buses, trucks and forklifts using fuel cell technology, but, while the technology is developing rapidly, the infrastructure to support it is lagging behind.
West Midlands: When one door shuts…
A chronic shortage of space and land is spurring on developers to build speculatively.
A1-M1 South: A brighter future
A shortage of space and pent up demand is spurring developers to bring sites forward.
---
Get the iPad edition
Copies of this issue are available on the iPad through Apple Newsstand. Click here to visit the site.
Get your own copy of the magazine
Click here to subscribe to the hard copy of Logistics Manager.