Belron, the company behind AutoGlass, has signed a global deal with Locpin, which has developed a smart location application for last mile delivery.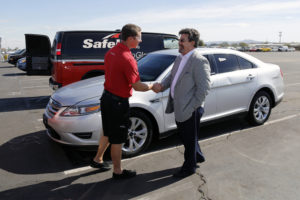 The Locpin system allows technicians to find the vehicle requiring repair accurately and quickly whether at home or at the roadside.
Customers who book an appointment receive an automated message, enabling them provide the precise location of their vehicle to within three metres by three metres anywhere in the world, plus additional details to help locate their vehicle, such as the colour of their car and contact details.
The deal follows a trial between Locpin and Safelite AutoGlass in the US as part of Belron's 'Drive' start-up initiative, which saw 1,200 jobs completed using the system.
90 per cent of customers said they liked being able to help their technician locate them.
Rollout will begin in the US initially with wider rollout in the UK and other markets expected later in 2018. Belron is also investing in Locpin.
Belron's chief information officer Nick Burton said: "We saw an overwhelmingly positive response from our customers during the trial with Locpin, they were happy to engage and share information to help the technician locate them more easily."
"Locpin makes life easier for our technicians, giving them all the information they need to help them provide a quick, efficient, and fantastic service for our customers."
Locpin, which was founded by Guy Davenport in 2016, uses GPS co-ordinates to provide location information more accurately that a postcode. The patent-pending technology links location data to the customer's email or mobile phone, removing the need to create a separate code or password.
Davenport said: "I am incredibly proud of how the team demonstrated our ability to quickly get to the root of the business challenge and work in an agile and collaborative way to quickly implement a solution that has real impact for Belron."