Baoli Material Handling Europe has launched a range of new electric pallet trucks and stackers suitable for load capacities from 1 to 2.5 tons.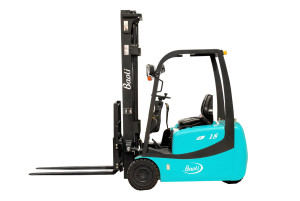 Several pallet trucks and stackers feature optional foldable ride-on platform and protection guards. The trucks are equipped with Curtis controllers and Rema tiller heads.
The trucks are equipped with different battery capacities from 85 Ah to 375 Ah. Maintenance free batteries are also available.
A short tiller is designed to give a small turning radius. For precise handling, the electric steering system is available as an option.
The new electric stackers are available with load capacities from 1 to 1.6 tons. Different masts versions including a wide view mast enable a variety of applications with lift heights up to 6 metres.