Beverley Bell FCILT, senior traffic commissioner for Great Britain, is to be the next president of the Chartered Institute of Logistics and Transport in the UK.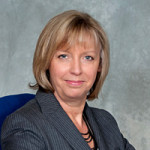 She will take over from Jim Spittle FCILT at an inauguration lunch on 8th May.
Spittle said: "I am delighted that Beverley Bell has accepted our invitation to become the institute's president-elect. She is an extremely well-respected professional through her work as senior traffic commissioner and has been an enthusiastic vice-president as she champions the causes of both passenger transport and freight."
Bell has been a Fellow of the institute for nearly ten years and a vice-president for the past two years.
She has been senior traffic commissioner for Great Britain since June 2012, having been traffic commissioner for the North West of England since April 2000. She began her career in private law practice before establishing her own practice in 1990, specialising in Criminal and Transport Law.
"It is both an honour and a privilege to be given this opportunity to represent the logistics and transport profession during such an exciting period of growth and development," she said.
Ruth Waring FCILT, founder and chair of Women in Logistics UK, said: "Women in Logistics UK is delighted to hear of the appointment of Beverley Bell the Senior Traffic Commissioner as President designate of the CILT. Mrs Bell has been a staunch supporter of WIL since she spoke at our first event in 2009, and we are thrilled to see that she is now taking on this new challenge. We know that Mrs Bell will continue to work with WIL in her new capacity and, with her help, we look forward to doing more to attract and retain great female talent in the logistics sector."