Bibby Distribution, after introducing a purpose built triple deck curtainsider to the Unipart Rail fleet, has added six of the 13.6m trailers to the company's distribution wing.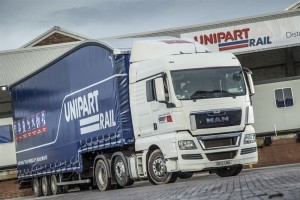 The addition is part of a plan to reduce the South Yorkshire and Cheshire based company's transport costs, as well as to improve its efficiency by maximising trailer utilisation.
"After predicting growth in the volume of rail components and installation materials we need to trunk at night, Bibby Distribution quickly found a way we could increase the capacity of our trailers, which predominantly carry non-stackable or 'ugly' freight, without significantly increasing costs," said Rick Moglia, Unipart Rail Transport logistics manager. "That's completely in keeping with the relationship we've had for more than two decades, with Bibby Distribution continuously working with us to find effective solutions to our operational requirements."
Each of the trailers can hold up to 20 additional pallets – a 28 per cent increase in load. Bibby Distribution provides outbased distribution services for Unipart Rail, with vehicles based in Crewe, Hoddesdon, Avonmouth and Glasgow to service local regions.