Book publisher Hachette UK is to consolidate its distribution operations at a new automated distribution centre, to be built in Didcot, near its existing Bookpoint distribution centre.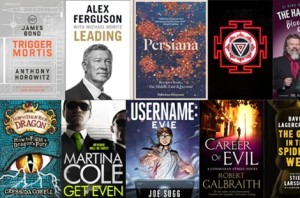 Tim Hely Hutchinson, CEO of Hachette UK, said: "What we are planning is designed to be the most efficient, most sophisticated distribution centre in the UK, with world-class systems to provide superb service."
The new site is due to be up and running in 2018. Hachette will close its existing warehouse and offices in Littlehampton in 2019.
As part of the investment in the new site, the company will replace the Hachette Vista warehouse management and sales order processing systems, with software from suppliers including SAP and JDA.
Hachette UK subsidiaries and brands include Headline Publishing, Hodder & Stoughton, John Murray, Quercus, Orion Publishing, Octopus Publishing, and Little, Brown Book. It is owned by Hachette Livre, the world's second largest trade and educational publisher.
Building work is due to begin on the new distribution centre towards the end of 2016 for completion in the second half of 2017. It is intended that Hachette Distribution and its client publishers will begin a carefully phased transition to the new site in 2018.
The existing Bookpoint warehouse will be retained for bulk storage, but the Littlehampton warehouse and office will close in 2019.
Chief operating office Chris Emerson said: "The retail landscape has changed; people buy and read books differently and, as a result, they expect a very different customer experience. We must anticipate customer requirements by transforming the distribution service we provide now and for the future.
"The major changes and improvements that we plan for our systems and operating processes mean that it is no longer efficient to split our distribution business between two locations, using systems built for another era.
"Some time ago, we started looking for a suitable site near one or other of our existing locations, Littlehampton and Didcot, on which to build a new distribution centre to accommodate our consolidated business. Unfortunately there was no site suitable for our requirements near Littlehampton but, more fortunately, there were a number of sites in or near Didcot. The new centre will therefore be built on a site that is within one mile of our existing warehouse at Bookpoint."
"The timetable for the project stretches over the next three years: it is intended that building work on the new site will begin in the autumn of 2016 for completion in the second half of 2017. We intend that publishers should move into the new site from LBS and Bookpoint over a carefully phased period of 2 years (during 2018 and 2019) to ensure that we maintain our service levels to client publishers and to customers at all times. It is proposed that, at the end of this process, likely to be in 2019, LBS will close."