The BoxSizer packaging machine will be on display at the IntraLogisteX show on 16th and 17th March.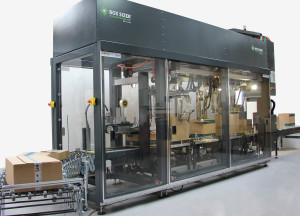 BoxSizer generates multiple footprint box sizes, randomly on-demand, which results in savings whether the user ships by unit, volume or truck.
It can also cut transport costs, as more can be shipped in the same space – the machine has a typical average volume reduction of 30 per cent. It also uses cost effective materials that typically save 25 per cent on outer box material.
BoxSizer exhibits alongside a range of exhibitors, including: Renovotec, Craemer, A27 Engineering, and Indigo Software, along with many others.
IntraLogisteX is returning to Jaguar Exhibition Hall 2 of the Ricoh Arena in Coventry on Wednesday 16th and Thursday 17th March 2016.