Briggs used IMHX to exhibit the latest counterbalance trucks from both Hyster and Yale – and it unveiled a £3 million contract with Malcolm Logistics.
The new Hyster XT counterbalance forklift truck is a 2.0-3.0 tonne capacity forklift trucks is built for a variety of everyday indoor and outdoor applications in logistics, distribution and manufacturing.
The trucks are available with diesel, LPG or dual fuel engines. Hyster said the benefits of the Yanmar diesel engine include super quick glow plugs allowing the engine to start quickly and reliably under cold conditions, delivering a cleaner exhaust by advancing the fuel injection timing based on water temperature.
Briggs was also showing Yale's new MX series of counterbalance forklift trucks which, initially, is available in 2.0, 2.5 and 3.0 tonne capacities.
Gary Clements, Strategic Development Director at Briggs Equipment, said: "Using tried and tested Yale technology, the three model variants are engineered to provide a cost-effective alternative to the heavy duty cycle, feature-rich VX series. The MX is ideally suited to secondary distribution, wholesale, retail, manufacturing and rental applications, which makes it an important entrant into this competitive marketplace."
The new MX series will be manufactured in Craigavon in Northern Ireland which recently built its 400,000th truck, a Yale Veracitor VX.
Malcolm Logistics is improving its extensive materials handling capability at its own facilities across Scotland as well as sites it manages on behalf of customers. Briggs is supplying the company with 109 Hyster forklift trucks plus an additional 21 machines, which are a mix of Aisle-Master articulated trucks, ride-on powered pallet trucks, sweepers and scrubber dryers.
The Hyster forklift fleet is made up of H2.0FTS, H2.5FT, H3.0FT and H3.5FT machines, and will be deployed to support one of Malcolm Logistics' customers in the drinks industry. The 2.5t, 3t and 3.5t machines will be fitted with cascade push/pull attachments, carton clamps and double pallet handlers to improve their ability to load and transport goods.
---
Apex Supply Chain Technologies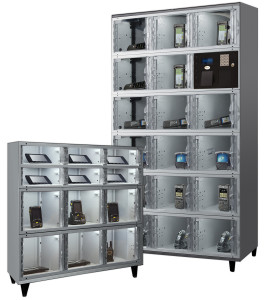 At the Apex Supply Chain Technologies stand, managing director Julian Adams and his team were debuting the company's new cloud-based innovation; the Axcess 61000 series automated locker system. The asset management system, designed with distribution centres in mind but also used in retail environments, uses cloud-technology to keep tabs on hand held devices.
At the intralogistics event, Adams said that the supply chain is experiencing a huge problem – the loss of assets in the warehouse. According to the company, this is costing the industry a significant amount each year. Time can be wasted searching for lost devices, and it is expensive to replace scanners that vanish. Overall efficiency can be severely impacted by poorly managed manual strategies.
The automated locker system aims to solve this particular issue.
The solutions provider says that automated scanner management 'increases the control of and accountability for handheld electronic devices', and that these systems can reduce replacement costs by up to 40 per cent.
One supermarket retailer, said Adams, was loosing around 6,000 scanners a year before implementing the Axcess locker system. The company now operates with zero losses.
The self-service lockers use 'The Apex Trajectory Cloud', which stores data that can identify who has used the equipment, at what time, and where. It can also deliver reports which outline details of usage patterns.
Scanners, tablets, smart phones and radio headsets are checked in and out using personalised codes or cards.
Bespoke lockers are be built for specific environments and operations and are installed quickly. The lockers are also suitable for Personal Protective Equipment.
Apex also premiered Actylus, its 'smart bin system', at the exhibition. The creation targets stock replenishment issues for consumable items. The system is able to send out automated alerts, as well as re-order notifications for suppliers. This cuts out the need to count trips, safety stock and emergency orders.
---
Tesco and DAI
Tesco joined forces with DAI in a presentation looking at Tesco's recent carrier management implementation and major warehouse solution upgrade, for its Tesco Direct business.
Peter Shuttleworth, head of technology at Tesco Transport, and David Stocker, director of supply chain at DAI, explained the multi-channel multi-carrier strategy, the use of carrier management to handle internal label generation, Click & Collect optimisation through the use of master cartons, the management of internal fleet alongside parcel carriers and harmonised multi-carrier parcel tracking,
The session also discussed the retailer's Tesco Direct web site integration, multi-site capability benefits of customisation, systems architecture, carrier management, parcel tracking and cloud hosting versus on-premises.
The speakers examined the benefits of optimising fleet and carriers at Tesco including for Click & Collect; how harmonised tracking had improved the Tesco Direct experience; and why flexible rules allow greater carrier selection.