BS Handling Systems has installed an 18.5 metre long pallet roller conveyor at SCA Wood's Melton facility as part of SCA Wood's plan to automate the palletisation of its softwood shavings bi-product.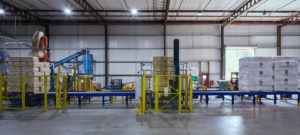 Russ Ellis, production development manager at SCA Wood UK said: "Previously we were using a manual system to move the pallets stacked with our Thoroughbred shavings. However we were never really happy with the system and from a health and safety perspective, it was no longer meeting our requirements. Therefore we came to the decision that it was time to automate the manual line."
The solution needed not only to automate the movement of pallets, but also incorporate existing processes including a baling machine which packs the shavings into bales, a robot arm for the movement of packed bales, a scissor lift to move the pallet during the stacking process and a shrink wrapping machine with turntable which wraps the pallets.
The system starts with the softwood shavings being filtered and bagged by a baling machine. The baling machine connects to a conveyor which transports the packed bales to the robot arm. The robot arm then individually picks up each bale and systematically places it onto the pallet. On average, each pallet holds 42 bales.
As the weight increases, the scissor lift lowers the pallet incrementally to meet the start of the powered roller conveyor. Once the pallet is full, it then joins the conveyor line and is transported to the shrink wrapping machine in the centre. The pallet is then moved onto the turntable which rotates the pallet to enable the bale stack to be wrapped.
Once wrapped, it progresses along to the end of the conveyor line where up to four pallets can accumulate before a fork lift truck moves them for storage. The conveyor line has been optimised to meet SCA Wood UK's target of producing 51 pallets per day.
Ellis continues: "The other aspect that BS Handling Systems was really helpful with, and arguably was integral to us giving them the work, was their willingness and ability to work with us to keep the line running during installation."