Parcel carrier Hermes says it experienced its busiest Black Friday Weekend ever – handling more than 4.8 million parcels.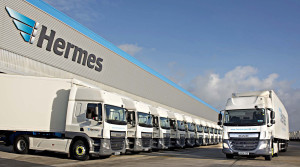 Volumes were up seven per cent growth on last year, when it processed 4.5 million items.
This year, the company handled 9.1 million parcels during the seven days following Black Friday.
To help handle high volumes during the peak season, including the upcoming Christmas break, Hermes invested in a Rugby facility, as well as 85 sub depots. The parcel carrier also recruited an extra 4,500 temporary self-employed couriers to fulfil deliveries.
Hermes has also added 490 trailers to its fleet, as well as 230 additional depot vehicles and 160 tractor units.
"Our meticulous planning and ongoing investment has ensured we have been able to deliver another hugely successful Black Friday Weekend for our valued customers," said chief executive Martijn de Lange. "Our network and infrastructure comfortably coped with the additional volumes.
"Over the coming weeks we will continue to work closely with our clients to understand their forecasts for Christmas and to guarantee the busy festive period will be equally as effective.
"We are extremely proud that our NPS scores have significantly improved, while handling substantially more parcels than last year, we have also improved the experience we are delivering. In addition our customer satisfaction score rose from 82 to 87. This is testimony to the team's hard work and dedication, our continued investment in new technology, and our commitment to grow our innovative portfolio of services and solutions."