Carlsberg has chosen DAF to supply 98 trucks for its in-house fleet in a deal worth £11.7m.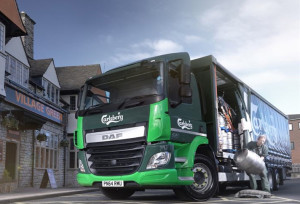 The new vehicles, the DAFs in Carlsberg's distribution fleet for ten years, will be based at eight regional distribution centres across the UK doing multi-drop deliveries of beer, plus associated items such as gas cylinders.
Carlsberg UK is one of the only major beer and beverage businesses to retain its own drivers and in-house national distribution service. It used feedback from its drivers and trainers to specifically tailor the new trucks to the way it works, such as needing a low load height for unloading, and complying with load security safety standards.
The vehicles, supplied on a six-year hire-plus agreement, include 15t and 18t LF rigid models, plus 26t CF and 6×2 tractors. The CF tractor units are expected to do more than 80,000 miles a year while the rigids will travel up to 40,000 miles a year each.
Carlsberg's national fleet manager Andrew Davis said: "Driver feedback about the ride quality, cab and drivability has been really positive, plus there's even some competitiveness to get the most efficient driving scores from the Driver Performance Assist system, but the key reason for choosing DAF had to be because it had the best aftercare package from its dealers."