AMCS has worked with Just Eat in Denmark to design and implement a fleet planning solution able to cope with the company's rapid expansion and deliver no less than 60,000 meals a month. The new system has resulted in a 15 per cent increase in productivity with no additional resources needing to be employed.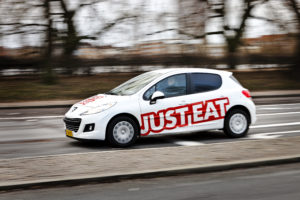 Just Eat is a leading global marketplace for online food delivery, providing customers with an easy and secure way to order and pay for food from its network of restaurant partners. The company uses proprietary technology to offer a quick and efficient digital ordering service for 21,5 million users and 82,300 restaurant partners.
Just Eat launched its business in Denmark in 2001 and now delivers food there in five major cities, all of which are managed using AMCS Fleet Planner.
The supply and delivery of restaurant food is an immensely complex task. This resulted in Just eat recognising the urgent need for an effective transport management and route planning system. There were however several specific challenges that needed to be addressed. These included:
-A narrow time window for the collection and delivery of food to meet order times and ensure optimal food quality
-A need to minimise the time travelled with food in the cars to control costs and quality
-In addition to knowing the time needed to deliver the food, Just Eat must factor in the time taken to prepare the food and know how long it can be kept warm in the car
-The distribution must be planned so the driver has as little latency as possible
-Severe peaks in demand for the service around meal times and at weekends means that deliveries cannot be evenly distributed throughout the day
Orders are booked online in the ERP system and planned in AMCS Fleet Planner before being pushed to the AMCS Mobile Web system utilised in the delivery cars. Before implementing the new system, drivers had to juggle several orders in their heads to work out if the delivery was possible within their area and then how to order them. Now, drivers receive one order at a time and can concentrate on providing the best customer service possible.
The system is set up so that the delivery route optimisation runs in real-time. This means that the system has the capability to constantly allow for delays, insert new orders and improve the overall performance of the business.
Implementation of the system has helped Just Eat work towards its objective of delivering 95% of all orders within one hour. This has been vital for a business that sees customer service as 'the new marketing', and relies on word of mouth and recommendations to continue its rapid growth.
The AMCS system has delivered a number of other key benefits, supporting a rapid ROI. These have included:
-An Increase in productivity by 15% with the same amount of resources
-A reduction of 5% in average mileage per delivery
-Full overview of transport planning scenario
-A less stressful working environment for planners and drivers
-Higher service level and hence happier customers
-The ability to optimise the utilisation of cars in the fleet, eliminating excess capacity and costs
In addition to the immediate cost savings and efficiency improvements, the AMCS system has also assisted Just Eat in future.