CitySprint says it is "disappointed" by an employment tribunal ruling that one of its cycle couriers should be classed as a worker rather than self-employed.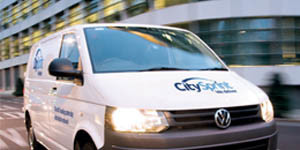 The decision follows a similar ruling last October in a case brought by drivers working for Uber.
The rulings mean that the employees will be entitled to receive the national minimum wage and holiday pay.
A CitySprint spokesman pointed out that this latest ruling applies to a single individual and was not a test case. "Because of the complexity of the judgement we will be reviewing it in detail before making any further comment."
Maggie Dewhurst, the claimant, and chair of the Couriers and Logistics Branch of Independent Workers' Union of Great Britain, said: "The reality of a courier's working life has been exposed; it's a tough, physically and mentally demanding job, in a low-pay sector – we are not high-flying entrepreneurial executives. CitySprint and its rivals have been using the excuse that their couriers are entrepreneurs for many years, but this was found to be an artificial construction, and that couriers are in a subordinate position."
The CitySprint spokesman said: "We enjoy a good relationship with our fleet, many of whom have worked with us for some time, and have always strived to help them maximise their earnings. Evidence presented at the tribunal confirmed that the vast majority of our couriers enjoy the freedom and flexibility of their current role. As was clearly highlighted in this case, CitySprint is a good company that pays its couriers some of the best rates in the industry.
"This case has demonstrated that there is still widespread confusion regarding this area of law, which is why we are calling on the Government to provide better support and help for businesses across the UK who could be similarly affected."