CKF Systems has developed a number of 'low cost' robot handling cells – the equipment is designed for companies operating a manual palletising line. The supplier of automated handling and robotic solutions' 'AC25 Robot Palletising Cell' is priced at £80,000 – CKF said that the product provides payback in under two years.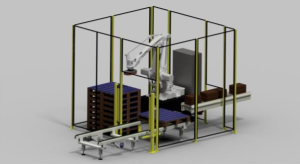 "Our objective was to design a low cost robot palletising cell that can be installed as a standalone operation or combined for multiple feeds with a common discharge into secondary palletising operations such as spiral wrappers or pallet stacking," said Kevin Staines, sales director, CKF Systems. "All aspects of the cell are based on proven technologies and use user friendly interfaces for both operatives and engineers.
"The operational simplicity of this palletising cell means that we have addressed one of the biggest concerns of those SME's still resistant to change; that their businesses are unprepared for the complexities of automation."
The AC25 operates at 15 cases per minute – and uses an ABB 4-axis robot and industry standard equipment. The robot is able to handle cases with dimensions of up 400mm long x 300mm wide x 250mm high and a net weight of 25kg.
Mike Wilson, chairman of the British Automation and Robot Association (BARA) said: "The pressures on operating costs and output levels and the difficulty of attracting people for arduous tasks are real threats to the long term sustainability of businesses that do not embrace automation.
"CKF's AC25 is a cost effective solution that can significantly improve the overall efficiency and flexibility of a business. The cell works in a small footprint and removes all issues related to human interface such as repetitive strain problems, rest breaks and availability of labour. There is also the peace of mind of working with a proven system from an established UK provider with a long and successful history in the field of robots and automation."