Government plans to close all UK coal-fired power stations have left the rail freight industry at an important crossroads, John Smith, head of GB Railfreight, has warned.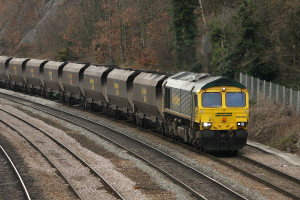 Energy and climate change secretary Amber Rudd announced on Wednesday that the government will close all UK coal-fired power stations by 2025.
"It cannot be satisfactory for an advanced economy like the UK to be relying on polluting, carbon intensive 50-year-old coal-fired power stations," she said.
Coal has been a mainstay of the rail freight industry. According to the Office of Rail & Road, coal will account for 640 million net tonne kilometres in 2015-16 – about 14 per cent of all rail freight traffic.
Smith said that coal stations are closing quicker than expected because of the carbon tax regime. "Together with the demise of the UK's steel industry, the rail freight sector is seeing the reduction of bulk commodities that have been the core of our business and allowed us to speculate in other markets," he said.
Describing the news as an "important crossroads for rail freight," Smith said that the industry would need government support to "find and develop new and existing foundations".
He added: "we urgently need to see a joined-up approach from Government that supports rail freight to prosper. This includes investment in enhancements to create more capacity on key rail arteries like the West Coast and East Coast Main Lines"