CollectPlus and Gett Delivery have launched a £1.95 returns services in which Gett Delivery scooter couriers collect a customer's returns before delivering it into the CollectPlus network within an hour.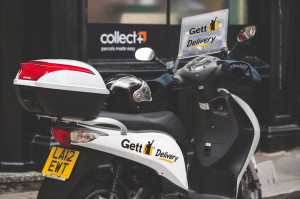 Shoppers in zones 1 and 2 of Central London can now use the service – powered by Gett's app – to return unwanted purchases to more than 300 retailers, including John Lewis, New Look and ASOS. The service will be extended to zone 3 in the near future.
To use the service the consumer uses the Gett app to selected the CollectPlus returns option. It promises to collect within ten minutes of ordering and the goods are taken to the nearest CollectPlus point. The service costs £1.95 per parcel and is available from 9am to 11pm, seven days a week.
The service is being trialled for six months in Central London, with the view to expanding to other cities across the UK in the coming months.