IDI Gazeley has begun construction on a new 574,000 sq ft warehouse at Magna Park, Milton Keynes. The site, which is the largest speculatively built warehouse since 2008, is expected to complete by the end of February 2018.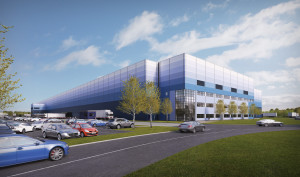 The new site has been designed with leading logistics, distribution and ecommerce companies in mind.
The site will have a floor loading capacity of 80 KN/ sqm and a clear height of 21 m,.
The facility can accommodate different types of storage layouts, including high racking and up to 5 levels of mezzanines. It is also a cross dock facility that caters for all HGV needs with 117 double dock doors and eight level access doors.
It sits on a 26.26 acre plot and will have 532,560 sq ft of warehousing space, 26,802 sq ft of offices, as well as two office pods to the north and south of the building each totalling 7,233 sq ft.  In addition it will have state of the art sustainability features including SMART LED lighting, DESG partitions, hybrid hydronic heating and rainwater harvesting.
Solar panels ready with prepared air space agreements can generate 1.3m KW hrs annually. The building will provide optimized natural light. Power charging stations for electric vehicles, using energy from Solar panels and battery packs, will allow potential customers to reduce emissions in their supply chains. Letting agents are JLL and Savills.
Furthermore, the warehouse will be 'Well Ready' certified meaning that it considers all aspects of personal wellbeing of the workforce that will occupy it.
"We are excited to be getting started on this innovative project that reimagines the way that our clients look at logistics warehousing," said Alex Verbeek, senior vice president and managing director UK, IDI Gazeley. "The entirety of this development was considered with the end-user in mind with greater height, floor loading capacity and sustainability credentials than other projects of its kind. We look forward to watching the development of the warehouse throughout the rest of the year."