Entries for the upcoming 20th Anniversary Supply Chain Excellence awards are now open – do you have what it takes to take home the trophy for Retail? Last year saw Waterstones triumph when it beat off stiff competition for both the Retail/E-tail category and the overall winner category.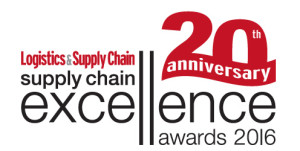 Waterstones, alongside its logistics partner UTL, came up with a plan to transform the customer experience across 300 shops. The retailer faced big challenges like reducing inventory in the shops, while at the same time increasing the ability to have more books front facing so customers have improved visibility.
On the logistics side, a huge transformation of the hub operated by UTL was completed in 2014, including major changes to the automation, IT systems, operational proccess and the facility itself.
For the Retail/E-tail category, we are looking for supply chains including major multiples, department stores and online retailers, covering grocery, fashion, hardware, electronics and leisure goods.
In its 20th year, the Supply Chain Excellence awards sets a precedent for the industry. Its stringent judging process, where supply chain performance is analysed in detail, makes it a very special and renowned event.
Those who are lucky enough to be shortlisted will make a presentation to our set of judges, as well as face detailed questioning from a panel. It is an exhaustive process that truly makes the awards worth winning.
The event itself will be held at the London Hilton on Park Lane on Monday 14th November 2016, where the winners will be revealed at a dazzling ceremony. Expect a delicious three-course meal and networking opportunities.