Crew members on the 15,000 teu container ship Maersk Honam have been evacuated after a serious fire broke out in a cargo hold.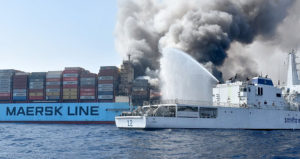 The fire was discovered on Tuesday while the ship was in the Arabian Sea heading for Suez.
The cause of the fire is currently unknown. After being unsuccessful in their fire fighting efforts, the crew sent out a distress signal and a total of 23 crew members were reported evacuated to the nearby vessel ALS Ceres, which arrived at the scene around 18:30 GMT.
Maersk said one crew member had died on injuries sustained in the fire, and four others were still missing.
"We are deeply saddened with the passing of one of our colleagues who in the first place had been evacuated. The seriousness of the event has escalated and everyone in Maersk is moved by this. We are in contact with the family of the deceased and our thoughts and condolences go to them," said Maersk's chief operating officer Søren Toft.
"We are doing our outmost in this tragic situation to care for all evacuated colleagues and continue the intense search and rescue operations on-going for the four crew members currently reported missing," said Toft.
Maersk Honam was built in 2017, and has a nominal capacity of 15,262 teu. It is carrying a total of 7,860 containers, corresponding to 12,416 teu. Maersk said all impacted customers had been contacted directly.