Culina is investing a "six figure" sum in mobile generator technology for client security at its UK chilled goods storage centres. The food and drink logistics company has said that the technology will ensure product temperature is maintained during a power cut.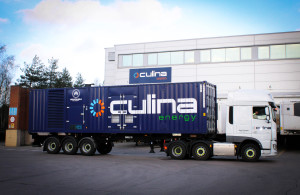 "We want to be completely confident that in the event of a power failure our client's products are protected. Especially when considering the ever growing strain on the UK power network," said Bob White, Culina facilities manager.
The diesel generator container is powered by Mitsubishi, and will initially be located at Culina Market Drayton.