Diesel engine manufacturer Cummins has acquired Johnson Matthey's UK automotive battery systems business, which makes high-voltage automotive grade battery systems for electric and hybrid vehicles.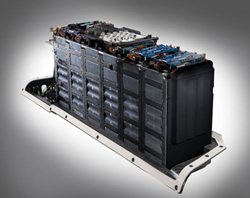 The business is one of Europe's largest lithium-ion battery system suppliers. It has 50 employees and is based in Milton Keynes. The deal is designed to help Cummins to achieve its ambition to be a global leader in electrified power.
"The addition of Johnson Matthey Battery Systems' technical expertise and customer base in markets that are more rapidly adopting electrification further positions us as a global energy storage supplier," said Cummins chairman and chief executive Tom Linebarger.
"By combining our electrification capabilities, portfolio of diverse power solutions, and global network, Cummins is uniquely positioned to lead in electrification. What differentiates us is our ability to help customers succeed with high quality products across the spectrum of power solutions they use, whether it's electric, diesel, natural gas or other energy solutions."
Johnson Matthey is able to focus on developing high energy battery materials, including its class-leading enhanced lithium nickel oxide (eLNO) product, for transport applications within its overall technology portfolio.
Cummins and Johnson Matthey also agreed to collaborate on the development of high energy battery materials for commercial heavy duty applications.
Last year Cummins acquired Brammo, which develops low-voltage battery packs for mobile and stationary applications. The addition of Johnson Matthey Battery Systems high-voltage battery expertise gives Cummins capability across the entire range of energy storage options.
Cummins is looking for further acquisitions as it prepares for delivery of electrified powertrains to customers in 2019.