DAF Trucks has supplied Martin Brower, the UK logistics provider for McDonald's, with the last of five Euro-6 CF 'silent' rigids. Martin Brower purchased the trucks for the delivery of 62 million cases worth of McDonald's frozen, chilled and dry good products.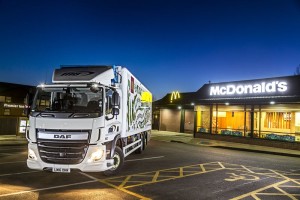 The CF 290 FAN rear-steers include DAF's silent mode, which is an engine software function that 'alters performance characteristics to reduce noise levels to less than 72 dB (A), and allowing for urban deliveries during early morning and night time restrictions.'
"We are always looking at ways of reducing our environmental impact," said Tony Winterbottom, general manager operational support at Martin Brower. "And have already completed significant work on reducing both noise and engine emissions.
"The DAF CF Silent option was chosen as part of our environmental protection strategy, and will be included on specification for all future truck acquisitions."